Crystal Bracelets - Benefits and Types of Crystal Beaded Bracelets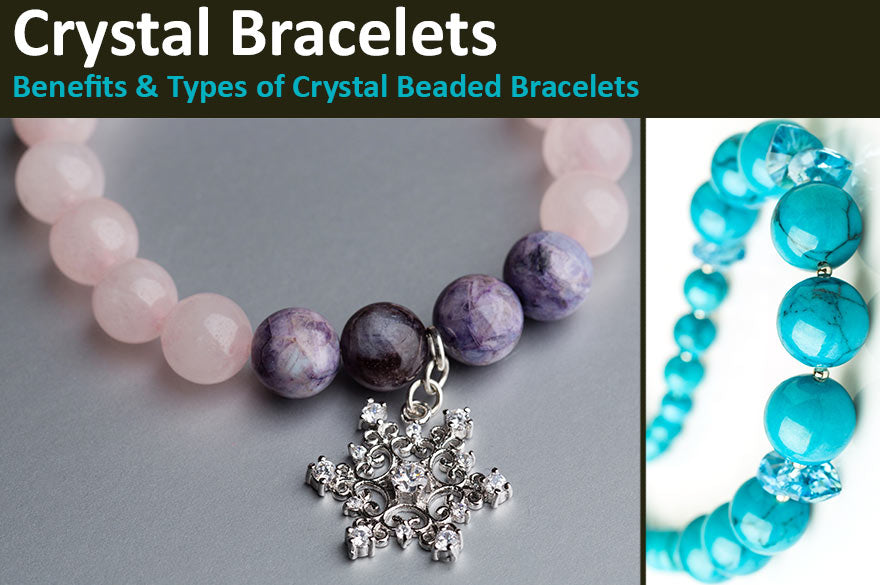 As you are reading this blog, it would be fair to say you are already conscious of the power of crystals. What we find when people first look into crystals is they start to see lots of people wearing crystal bracelets, crystal pendants and crystal beaded bracelets.
You see, crystals never go out of trend because they are straight from Mother Nature. Each stone carries with it vibrational energy and the fact is, people love wearing them.
Of course, nothing beats a 30kg amethyst geode cave, but you cannot wear it around your neck or wrist, can you ;-)
Both men and women wear crystal bracelets for their healing properties, the emotional uplift they get by wearing it and to remind them of the powerful intentions they have set for their life.
Or you may love the beauty of each natural crystal bead.
Let's jump in and start with the top 5 benefits of crystal beaded bracelets.
Top 5 benefits of crystal bracelets
You have the crystal directly on your body
Crystal bracelets are natural
They look beautiful
Each crystal has specific healing properties
They are an excellent reminder of the intention you set with the crystal
Types of crystal bracelets
Rose quartz bracelets complement the full range of rose quartz jewellery. They are all so stunning and by far the most popular crystal jewellery item to wear.
Rose quartz is the love crystal. When you think of unconditional love, think of rose quartz.
Rose quartz bracelets are so peaceful and radiate unconditional love and healing.
Fluorite bracelets are ideal for those who love the combination of purples and greens. Rainbow fluorite bracelets are lovely on and showcase how magnificent it is to wear natural crystals.
Fluorite is said to help overcome chaos and bring calmness. A fluorite crystal can absorb and neutralise any harmful or negative energy in a room. It can help bring balance and restore order.
Chakra bracelets can come in different styles, including a full lot of chakra beads around the bracelet. Or you may get a Chakra Lava Stone Bracelet. The lava stone bracelet has the 7 chakra crystals plus the rest of the bracelet is lave stone beads.
Lava is a stone of strength and courage, allowing one the opportunity for stability throughout changes in their life while the 7 chakra stones provide balance to the wearer of the bracelet.
You can also put your essences on your lave stone chakra bracelet.
The chakra bead bracelet is lovely as well.
Hematite is often used as a healing therapy bracelet, and there is no doubt you will get a lot of positive comments when wearing it.
Hematite crystals have an excellent grounding and balancing energy and are great for grounding yourself. It can be helpful with the organisation of the mind to enhance memory and evoke deep thought.
Amethyst is one of the most popular healing crystals and adored by all in the bracelet styling.
It is considered a crystal of protection, selflessness, nobleness, spiritual consciousness, meditativeness, balance and inner peace. It is an excellent stone for meditation and enhancing your intuition.
Black tourmaline bracelet
Black tourmaline bracelets are ideal for those who are looking to help cleanse and purify their energy. Tourmaline can help you develop a more centred vibration to provide a protective shield around your body.
Tourmaline is said to help you gain a better understanding of who you are. If you or someone you are looking to gift this to someone who is struggling with working out their direction, then tourmaline is the perfect crystal to help them gain clarity.
Smoky quartz is such a powerful grounding crystal. It is also a powerful healing and energy amplifier that will help you raise your spiritual energy.
Also, smoky quartz bracelets have a lovely colour to them, which intrigues people.
The beauty fo smoky quartz is that it is gender neutral and can be worn by both men and women. Plus there are so many benefits of smoky quartz and healing properties.
Opalite beads and Opalite bracelets are striking in colour. Their colour combination is mystifying and lovely to look at.
Opalite is one of the prettiest crystal bracelets available, and they glimmer, glisten and shine in every way possible.
You may already know that Opalite is a man-made stone, but it is still such a beautiful colour.
Orgonite bracelets are going to be one of our favourites. We have had many people ask about orgonite bracelets and orgonite jewellery but have only just started sourcing some beautiful bracelets.
We have a variety of crystals within the orgonite bracelets completed on a lovely leather band.
Crystal bracelet gift ideas
Crystal bracelets are excellent gift ideas. The crystals within each stone are natural and have loving energy about them.
If you know the favourite colour or stone of the person you are buying the gift for, then you cannot go wrong.
We do have many bracelets which come in a lovely presented jewellery box with a saying on the card about the crystal.
These are the best-sellers among our customers.
When it comes to Mother's Day gift ideas or Gift ideas for kids, crystal bracelets are an excellent choice.
You will love the pricing of our various bracelets and find you can buy several, as you are buying directly from a small local business.
Crystal charm bracelets
Crystal charm bracelets are trendy.
You can get many different charms on your bracelet, but the one we sell here is the Tree of Life charm.
The Tree of Life charm is a symbol of a new beginning, a fresh start.
You can set your intention when you get it to bring on the positive energy and to aspire to an exciting future.
Remember the time you planted a tree or started a veggie garden as a child? Remember how excited you were to water it every day and watch it grow?
The Tree of Life charm captures all that energy, just like a tree seed has abundant energy to grow into a fruit tree or a massive acorn tree, all from a little seed.
A tree truly does represent all that is possible in life. From small beginnings can become amazing things.
Healing Crystal Bracelets
You may be wondering, which are the best healing crystal bracelets?
Each stone has its own healing properties and depending on your needs at the time, and each one can provide the healing you desire.
Crystals have been cherished for thousands of years by people all around the world. Wearing stone bracelets for healing is a simple way to enjoy the benefits of Mother Nature.
We often refer to the crystal books by Judy Hall, which is 'The Crystal Bible' and 'The Encyclopedia of Crystals'.
Both of these provide all the amazing healing properties of every crystal as well as how you should wear them.
It is said you should wear your crystal bracelets on your right hand when you want to send the positive energies of your crystal outward.
You can wear your crystal bracelet on your left hand if you want to radiate the healing energy of the stone inward.
Crystal bracelets online
You will love the fact you can buy your crystal bracelets online here in Australia.
We are very selective with the type of crystal bracelets we select for our shop. You can be assured we do our best to hand-select the prettiest of them all.
The best part of ordering your crystal bracelets online is they are lightweight, so shipping is inexpensive.
You will find we package your crystal bracelet in the best possible way, so it gets to you in perfect condition.
---