7 Gift Ideas in 2023 for Ladies Who Love Crystals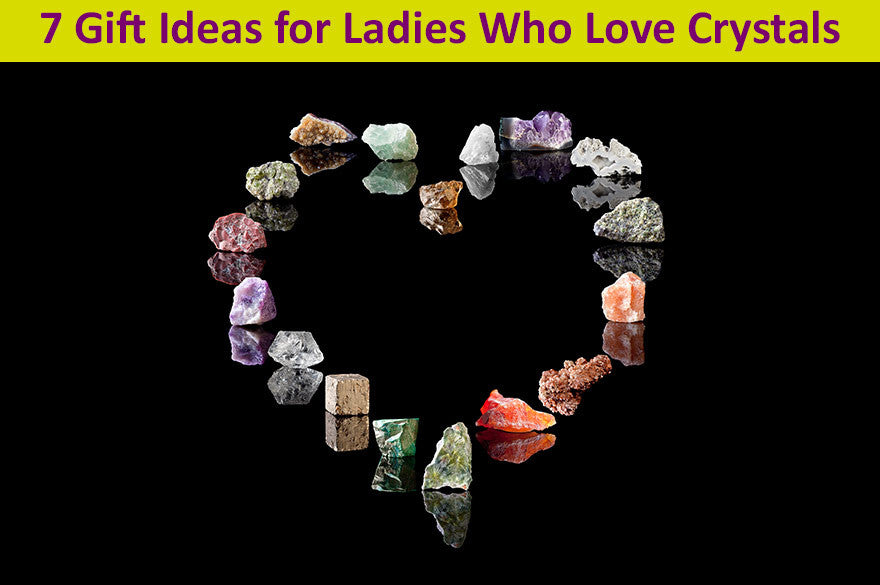 If you are looking for unique gift ideas in 2023 for the ladies in your life that love crystals, then this post will give you some great ideas.
Whether they love crystals for their beautiful appearance, health benefits or to raise their energy, the ladies in your life will love these crystal gift ideas.
Crystal gift idea number 1 in 2023 - Amethyst Geode Cave
The first gift idea is the amethyst geode cave. Amethyst geode caves are simply stunning, and they are so beautiful.
Every time someone views an amethyst crystal geode cave, they are quite mesmerised by their beauty.
They do come in lots of different shapes and sizes. They come down to the smaller size, maybe down at five or six kilos, all the way up to 30, 40, 50 or even 100 kilos.
Some of the geode caves that you'll notice on our site have a very deep purple. Some of them have large amethyst points, some of them have smaller amethyst clusters and smaller points.
No matter which one you like, you can know that all our amethyst geode caves are Q1 quality.
If you have a friend who loves crystals, then the geode cave is the top of the line, one of the best crystals you can get. It is a stunning centrepiece that will sit front and centre in any room, and as a gift idea, it will be just amazing.
Crystal gift idea number 2 in 2023 - Candle holders
When it comes to beautiful candle holders, you have a couple to choose from.
Obviously, a lot of ladies, like myself, do enjoy putting on a candle to light up the room and bring some peace and harmony.
Whether you're having a bath or whether it's just in the TV room or the lounge room, wherever you are, candles are fantastic.
We have a range of different candle holders from:
There is a range of different shapes, so really, you can take the one or choose a few that you prefer the most.
The other thing to consider is the different forms that are available. They do come in a range of different shapes, including:
selenite
hearts
stars; and
cylinders
The interesting thing with the amethyst and citrine point candle holders is each of the individual amethyst and citrine points is individually stuck on. It's quite remarkable how they put these things together.
All you need to do with the candle holders is put your little tea light candle in the middle, set it alight and then just relax.
Crystal gift idea number 3 in 2023 - Amethyst Crystal Hearts
Amethyst crystal hearts are stunning.
If you want to earn 'brownie points' with your wife, fiance, girlfriend or significant other, then grab one of these crystal hearts.
Your crystal loving partner will be in heaven.
Some come in a beautiful deep purple and they range in weight from 140 grams up to 380 grams, and the cost is relative to the weight of the amethyst cluster crystal. 
A Uruguayan amethyst crystal heart is a very popular gift item for the lady who loves crystals.
If it's around Valentine's Day, then this is one of the best Valentine's gift ideas anyone can give their crystal loving significant other.
Crystal gift idea number 4 in 2023 - Fluorite Crystal Points
The fourth gift idea for women who love crystals is the fluorite crystal point. They have such a beautiful colour, the fluorite crystal points.
We have one of the largest ranges of fluorite points in Australia, so be sure to click here to see the full list available. We have in excess of 30 of them in multi, purple, purple and green and more. Click the listing below and a number of other fluorite points will pop up. Such amazing colours.
You'll notice as you hold them in different shades of light, they beam with different colours. They do have great shades of purple and green. They're perfect on the sides and the edges. They do come in different shapes and sizes.
We want to make sure the point is perfect, we always ship it and we protect the point, we wrap it carefully with a lot of bubble wrap, so it arrives perfectly.
Fluorite is set to overcome things like chaos and to bring calmness to your life, so it can absorb and neutralise any harmful and negative energy in a room, so this is a very popular gift idea.
Crystal gift idea number 5 in 2023 - Amethyst Gem Trees
The amethyst gem tree comes in a range of different colours. You've got bonsai gem trees, you've got crystal gem trees, you've got crystal gem trees on a wooden base.
You've got the tree leaves that have amethyst. You've got the citrine, you've got quartz bases. You've got a range of different crystal gem trees to choose from.
A lot of people do love the crystal gem tree on a quartz base or those on an amethyst crystal base.
Some of them have hematite or sodalite or quartz tree leaves. What many people do not realise is the leaves are individually glued on.
Another popular one, of course, is the bonsai gem tree and it looks like a natural tree on a crystal base, like an amethyst base. Then you've got the leaves on, which are citrine, amethyst, quartz or perhaps even rose quartz.
You have a range of beautiful gem trees to choose from. They're a lovely gift idea, and they ship quite easily, as they are nice and lightweight.
Crystal gift idea number 6 in 2023 - Agate
Those who love crystals always love agate. It is so natural and always has a unique colour and shape to it.
By far the most popular gift idea when it comes to agate are the agate butterflies. They are beautiful, and they are the fastest to sell out, especially around holiday periods, like Christmas or Valentine's or Mother's Day.
The agate butterflies do come in a range of different colours, from blues to pinks, to purples, to light blue, to dark blue. There are browns, greens, different shades of purples and everything in between.
There are a couple of other agate crystal ideas that you can choose from. One is an agate slice candle holder, which are quite beautiful when the tea light candle is on.
The other one is the agate wind chimes, which also sell out fast.
We find when people get an idea of the gift, they all of a sudden buy three in one go. They stock up for Mother's, Aunties, Grandmothers and nieces. Then all of a sudden we sell out quite quickly. Agate is a very popular gift idea.
Crystal gift idea number 7 in 2023 - Selenite Tower lamp
The seventh gift idea is a selenite tower lamp. Selenite is such a beautiful crystal. 
Selenite Tower lamps are around a foot tall (30cm) and they're thought to be one of the few crystals that can cleanse and recharge both itself and other gemstones, especially quartz.
These are a beautiful gift idea. When they are carved, they are naturally carved to form a pyramid or tower shape, hence the name Selenite Tower Lamp.
If you do like the idea of buildings and you like a beautiful, nice, soft glow with the lamp, then a selenite tower lamp is a perfect gift idea for that lady or the woman who loves crystals.
They are a beautiful gift idea and you can't go wrong. They're a little bit more expensive than the Himalayan salt lamps. However, they're a gift that will be remembered for a very long time.
Click play on the video below to see the different sizes and the quality of the ones we have in stock.
There you have the top seven gift ideas for women who love crystals. 
Hopefully, that will point in the right direction and makes you very popular with the ladies in your life, whether it'd be your mother, your sister, your auntie, your girlfriend, your mum or niece.
Any of those important people in your life would love these crystal gift ideas.
---