5 Beautiful Gift Ideas Under $20 For Kids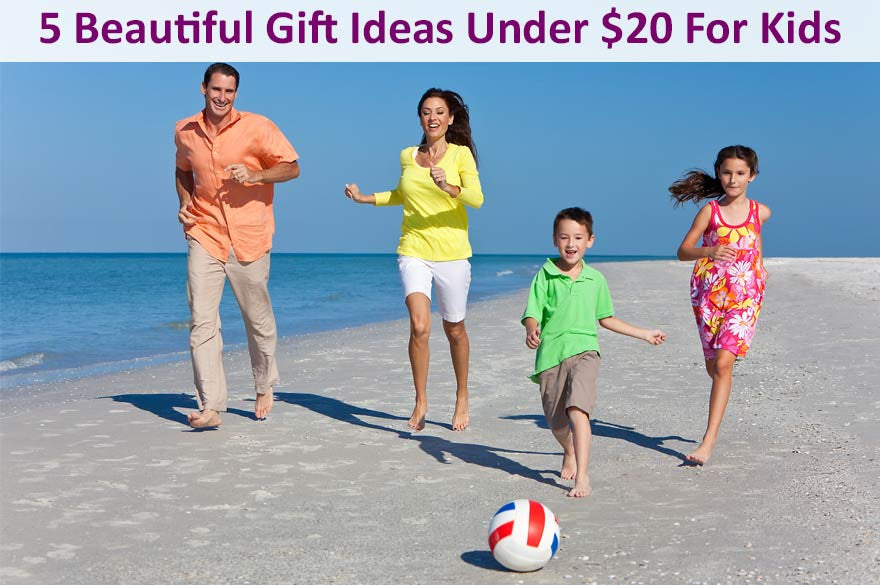 Kids are always full of adventure and love trying out different things. Every Christmas time, parents get faced with the same Like adults, kids are unique in personality and character, so determining the gift that would satisfy a particular kid may not work out always.
However, there are some kids gift ideas that would impress the majority of them, since they try to connect with the kids' hearts and minds.
In this article, we'll take a look at five beautiful gift ideas under $20 for kids.
1. Kids Crystal Starter Kit  - $15
Remember how much fun it was getting new things as a kid. If there is one thing for certain, kids love playing with rocks.
But these aren't just any rocks. The kid's crystal starter kit has a wide range of polished crystal stones to get their curiosity up.
I was talking to a friend the other day who is 52yrs old. They were saying as a kid, how they used to buy little gem bags from the local chemist, which had some crystal stones in them. It was always a joy picking through the different stones to see which ones had the most energy.
Of course, chemist's don't stock those crystal gem kits anymore, but we do.
If you are looking for an ideal gift idea for a young child, the crystal starter kit is perfect.
As you can see from the image above, not only do you get a whole heap of crystal stones, but you get an image chart. Imagine the smile on their face.
For those who are looking to set intentions to a specific purpose, the crystal healing stone sets are very popular.
When you click the image below you will see 12 healing stone sets. Now you can find the perfect one for you and your loved ones.
2. Crystal Jewellery - From $10 a piece
The crystal pieces of jewellery assortment is another set of earth-inspired gifts that encompasses almost all jewellery item one can think of - including:
necklaces;
pendants;
bracelets; and
earrings to name a few
A variety of stones and items have gone into making these items, which lend each jewellery item their unique characteristics, in terms of design and colour.
Below you can see a selection of lovely bracelets with beads. We have a number of others to choose from as well. Click here to view our jewellery page and then you can sort from lowest price to highest price.
You may also like the rose quartz and amethyst heart pendants below. These are extremely popular for the young girls.
For example, there is a necklace made of amethyst chips that are beautifully gathered to create a unique pattern.
These jewellery items make up ideal ornaments for routine use and when meditating or doing yoga. Not only that, but they all make beautiful Christmas gift ideas as well.
3. Crystal Gem Trees - From $20
A crystal gem tree is a modern gift that would impress kids who like to collect stuff. Heck, even adults love these. Last Christmas we sold out of our gem trees, and even though we've ordered more stock, we expect to sell out again.
This crystal tree has an amethyst base, which lends it the stability and support to stand on its own. The gift is a piece of art, and its petite size only adds to its overall beauty.
Weighing approximately 80 grams, the tree is 9 centimetres tall and has a 5 cm x 3 cm base.
Since the gem tree is made from natural stone, the piece you order for your child will be unique. That is the real beauty of gifts inspired by nature. They are all unique.
A gem tree like this is sure to elicit a massive smile from your little ones, all the way up to your teenage kids.
4. Crystal Word Stones - From $10
As parents, we always want to instil positive self-belief in our kids.
But we cannot always be there for them when they are feeling down.
And for this reason, crystal word stones are a powerful encouragement for kids to have around, either in their bedroom, pocket or under their pillowcase.
Every time they pick it up, they will be reminded by the beauty of the stone and the positive statement engraved on it.
Regardless of the particular stone you pick, you can rest assured of a strong stone that would help your kids foster abundance, love, good luck, wealth, courage, acceptance, and a variety of other positive traits.
All these crystal earrings are known for their excellent healing and protective energy.
Such a positive example for your kids.
5. Colour 7 Chakra Jewellery items
My fifth item is introducing some beautiful rich and vibrant colours.
7 Chakra jewellery items have a wonderful healing purpose for all that wear them but in particular, kids love the abundant colours.
When I get kids in my store, they always gravitate to the colourful items. It's amazing.
The important part of the 7 chakras is understanding the energy flows through our 7 chakras.
The idea is, if you have blockages in your seven chakras, you can have complications.
Ultimately, your goal is to make sure the energy is flowing freely through your 7 chakras.
But your kids won't even realise all these great benefits. Instead, they will be loving the colours.
Choose from any of the lovely chakra jewellery items below.
Summing up the 5 gift ideas for kids which are under $20
As you can see, there is a range of beautiful gift ideas that are unique. Each one will bring a huge smile to the child's face.
Our favourite by far is the kid's crystal starter kit. We can never seem to get enough of these in stock. Apologies in advance if we are out of stock when you view this page.
---