Best Crystal Jewellery in Australia for 2023 - Earrings, Necklaces, Bracelets & Pendants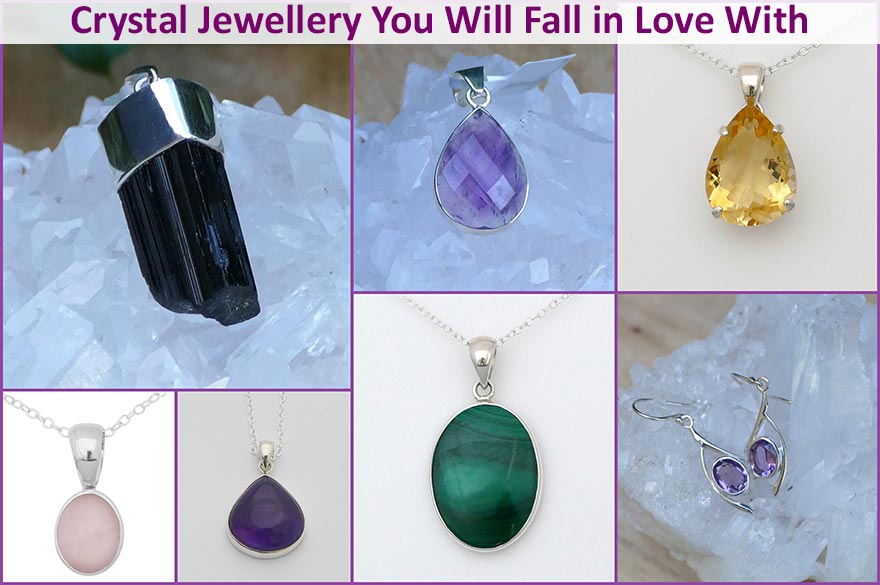 Stunning, beautiful and radiant. These are the common compliments people get when they wear the best crystal jewellery available in Australia in 2023.
The wonderful variety of crystal jewellery you have access to in 2023 is incredible.
Of course, there are four main types of crystal jewellery available online in Australia, including crystal jewellery necklaces, earrings, pendants and bracelets.
Crystal Jewellery for Healing, decoration & ability to manifest your desires
There are a couple of key reasons why crystal jewellery is so popular in 2023.
The main reason is their beauty. Obviously, some of the crystal jewellery pieces are cut in an amazing way or have been polished to truly shine and shimmer.
But most of all, you know they are a one of a kind natural crystal, mined from the Earth. As you can imagine, we love Earth Inspired products here.
Wearing a lovely crystal jewellery piece in your favourite colour allows you to radiate and shine the natural colours provided by Mother Nature.
Using crystal jewellery for healing
You are already aware of the fact that everything you see around you is energy. All the energy vibrates at different frequencies.
This is absolutely true for those wearing crystals. Each crystal has a certain vibration and can be used for various healing modalities.
We have talked about the best selenite crystals and benefits of selenite on numerous occasions, and it continues to be one of the best crystal for Reiki practitioners and energy healers. But the challenge is, it often doesn't come in jewellery pieces.
Chakra crystal jewellery to help enhance the flow of energy in your body
Another powerful crystal for Reiki Healing to enhance your power and energy are the Chakra balancing jewellery pieces.
The 7 chakras are the centres of your body in which the energy flows through.
This is why so many people love the chakra jewellery pieces. It allows them to enhance the flow of energy around and through their body.
If you consider your body the ultimate resource of power and energy, it makes sense to give it every opportunity to utilise all the energy and power in the best possible way.
Many people use the chakra jewellery pieces as a way to help re-energise and recharge their energy centres.
Most popular crystal jewellery
Two of the most powerful and highly sought after crystal jewellery pieces are both Rose Quartz and Amethyst.
Rose quartz is popular as it is the stone of love. People love our Rose Quartz crystal gift ideas too.
If you have a special man in your life and they know you as a lady who loves crystals, he cannot go past a beautiful pink Rose Quartz jewellery piece.
Think about it from the guy's point of view. Despite how well he knows you, one of the deep-seated myths about women is we all love pink.
I say it is a myth because while a huge percentage of the female population loves pink, not all do. Some love the deeper colours of Garnet or Tourmaline or perhaps the lovely green colour of Peridot.
So many wonderful choices.
Rose quartz jewellery - For those looking for love
Rose quartz is the stone of love but it also carries a number of wonderful benefits to the wearer.
Some of the benefits of Rose Quartz crystal jewellery are:
works on the heart chakra
a deep sense of personal fulfilment
can help develop a deeper bond with family and loved ones
said to stimulate your sensual side and imagination
can help both adults and kids with better sleep
The true win-win is being able to enjoy all those benefits with a wonderful looking crystal jewellery piece.
Amethyst crystal jewellery
Second in popularity to Rose quartz is amethyst. But it is a neck and neck battle in the popularity stakes for crystal jewellery.
Generally speaking, people love large amethyst pieces like the geodes, clusters or angels.
But you will be pleased to know there is a range of lovely amethyst crystal jewellery pieces as well.
The benefits of amethyst as a jewellery piece are:
to be used as a stone of protection
you can use it to help cleanse the spirit
it can help you enhance your spiritual awareness
people talk about how it can calm their mind
to help gain clarity and mental focus
Those are just a few of the wonderful benefits of the Amethyst crystal stone, so it is easy to see why amethyst crystal jewellery rates up there as one of the most popular.
Let's take a look at the crystal jewellery available online in Australia.
Crystal jewellery in Australia - The four main categories
1. Crystal Necklaces & Natural crystal necklaces
Crystal necklaces are beautiful to hang around your neck.
Because of the natural crystal, the necklace is made out of, you will find you are constantly playing with it. At least that is what happens when I am wearing one.
Most of our natural crystal necklaces are 36 inches in length and hang a comfortable distance down your upper body.
Even though each crystal has its own energy and properties, most people pick their necklace according to their favourite colour.
There is a range of neutral colours like quartz or moonstone, along with the more colourful ones like amethyst, chakra, lapis and Hematite.
Click on the links below to view each product.
2. Crystal Earrings & Natural crystal earrings
Crystal Earrings which are made from natural crystal are very pretty.
Our most expensive crystal earrings are the Aqua Auro ones. They are infused with Gold, hence the higher price bracket.
But we have a number of crystal earrings in the lower price bracket under $15 - $30 as you can see below.
We also carry a range in both silver and sterling silver. Each sterling silver earring set will have it clearly written they are made from the higher quality silver.
3. Crystal Pendants & Natural crystal pendants
Our range of natural crystal pendants is by far the largest. We have many crystal pendants compared to necklaces and earrings.
Crystal Pendants are one of the most popular, especially for those who use their crystals for healing purposes.
The reason is they sit right over the chest area. For those working on the key chakra centres, the heart and chest area is one of the most powerful.
So if you are looking for a speedy change or to manifest things, crystal pendants are the way to go.
Fortunately, there are thousands of incredible designers in the world who are passionate about creating beautiful crystal pendant jewellery.
It creates so much joy to be able to offer these beautiful pieces. The energy exchange is wonderful.
If you are considering a popular crystal jewellery gift idea, then a pendant is a very wise choice.
Click on the link below to find out more about each of the crystal pendant jewellery pieces below.
A fun crystal pendant made from quartz
Our most 'fun' crystal pendant we have in stock is the LED multi colour flashing quartz pendant.
Firstly, it is made from a beautiful piece of clear quartz crystal.
It has then had a lovely silver end added to it, to provide a lovely flashing suite of pretty colours.
Some people love to have some colour in their life. If you love being colourful, then the flashing LED quartz crystal pendant is a hands down winner.
Of course, if you are feeling less colourful, then you turn it off and you have a lovely quartz crystal pendant. How nice.
4. Crystal Bracelets & Natural crystal bracelets
Our most popular crystal jewellery gift ideas for $15 are our range of natural crystal bracelets.
We have around 15 different crystal bracelets to choose from and they are all either $15 or less.
Our most expensive crystal bracelet is the Tourmaline bracelet with sparkling black beads.
You will notice a huge variety of colours and crystal stones to choose from among our collection of natural crystal bracelets.
What ones are your favourite?
Crystal jewellery online shop in Australia
It gives me great pleasure to be able to offer such an exciting and loving range of crystal jewellery pieces via our online shop.
My business is a home based business, focused on Earth Inspired Products and of course the jewellery pieces on this page fit right in.
Not only do you get a wonderful crystal jewellery piece packaged with love, but you are supporting a small local business. You can view our
You can view our amethyst crystals in Sydney including our jewellery pieces by making an appointment. View the contact us page for more details and opening hours.
Shipping your crystal jewellery pieces around Australia every day of the week
As an online crystal shop, we get orders from all over Australia. 
We package every order up with love and make sure it gets to your desired destination with care.
Often we get people ordering from overseas as crystal gift ideas for their Australian friends.
No matter where you live in Australia, we'll ship your beautiful crystal pieces to you. You can view our shipping details here.
Postage is automatically calculated in your shopping cart on checkout. So as you add your crystal items to your cart, the shipping rate will appear when your postcode and address has been put in.
If you have any questions, you can use the live chat facility down the bottom right of the page and we'll help you out.
Summing up the Best Crystal Jewellery in Australia for 2023
If you are inspired by crystal jewellery, then I hope you are wearing some and you are receiving some wonderful compliments like how radiant, beautiful and sexy you look.
No matter if you love the soft pink colours or the lovely purples shades of amethyst, there are a wide range of impressive crystal jewellery pieces to get you going.
For many of you, you may be looking for some simple gift ideas for the ladies in your life.
If you know some ladies who love crystals, then be sure to send them a link to this page or tag them on social media.
Enjoy, spread the love and set your intention clearly on what you would like your crystal jewellery to do for you.
You can view the range of our best crystal jewellery items available in Australia below.
---