Top 7 Rose Quartz Crystal Gift Ideas For 2023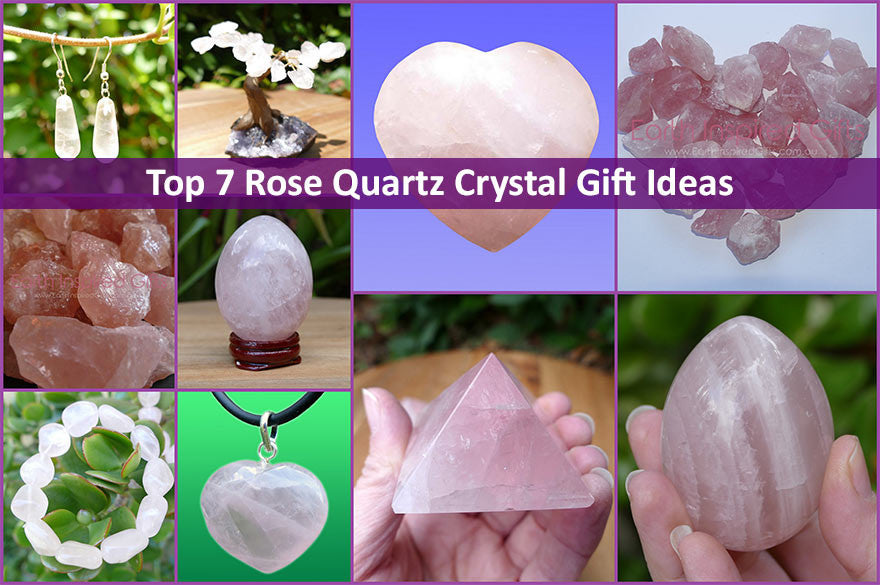 Are you secretly a romantic at heart? If romance and love are your things then Rose Quartz is going to be one of your favourite crystals. Not only that but rose quartz is such a lovely pink colour.
Or if you are searching for unique gift ideas for a special person who loves crystals, then Rose Quartz is an excellent choice. No matter if they love the healing properties of rose quartz or they love wearing rose quartz, there are plenty of reasons to choose this beautiful stone.
The beautiful natural rose quartz crystal gemstone comes in varying shades of light pink or salmon, to a medium pink shade.
There are some darker shades which take on a reddish tint, but they are less common. The rose quartz crystal is usually hazy, rather than transparent like clear quartz. This is a common trait of most quartz varieties.
Occasionally, more opaque stones are found as crystals or small crystal beads.
Today we are going to take a look at the top seven rose quartz crystal gift ideas for 2023, then we'll take a look at the benefits of rose quartz as a protective stone.  You will also notice with each one we mention the Rose Quartz meanings and uses as well.
Top 7 Rose Quartz Crystal Gift Ideas for 2023
1. Natural Rose Quartz chunks
Large, natural pieces of rose quartz crystal are often displayed on a table, with the intention of bringing positive energy into the home.
Rose Quartz is thought to bring positive energy and feelings of love to a home and its inhabitants. That's why it makes the perfect wedding or Valentine's day gift. It is ideal for ladies who love crystals.
Natural rose quartz chunks can be placed around the garden. You can place the larger ones in an orderly fashion in between the larger plants in your garden.
For example, I have a row of rose bushes and I place a large rose quartz chunk in between each one. People often comment on how beautiful they look.
You may like to place the smaller ones in a pattern in and around your other smaller plants. People are drawn to shapes of any type, so think creatively and create a wonderful collection of rose quartz in your garden.
If you collect a beautiful large natural chunk of rose quartz, you may like to put it at your doorway or at the entrance to your home. It creates an excellent vibration of love and romance as people walk in.
For those who live in Sydney, you are welcome to stop by our Sydney crystal shop and choose from our range of natural rose quartz gemstones.
Natural rose quartz is now a hugely popular item for outdoor or patio landscaping projects. This adds a unique and creative look.
2. Rose quartz hearts
Nothing says love more than a heart. If you would like to step it up a notch, then a rose quartz heart is the perfect symbol of love, gratitude and appreciation. 
With rose quartz being the stone of love, the combination of rose quartz and the heart shape is very powerful.
If you are looking for an amazing gift for your partner to celebrate a special occasion, a rose quartz heart will be well received. For matters of the heart, choose rose quartz.
3. Rose quartz earrings
Rose quartz earrings help enhance the skin's natural glow and bring out a woman's natural beauty. Most rose quartz earrings come in a silver setting with both providing a beautiful natural, soft glow.
Rose quartz earrings can get quite expensive and it depends on how they are set and if there are diamonds involved.
But if you are looking for a well priced, affordable gift idea, then the rose quartz earrings are perfect.
You will notice the rose quartz earrings available on our site start at a low $15. This is a perfect price point for a gift idea for a niece, sister or younger sibling.
You may like to buy these crystal earrings as a lovely gift idea for your daughter's friends at school.
4. Rose quartz bracelets
A Rose quartz bracelet can be made with naturally cut beads or rounded and polished bead. It depends on the look you would like to achieve. Stones come in all sizes, so they can be used to make chunky bracelets or more dainty pieces. While the pale rose colour works well with light or white beads, it also provides contrast to dark stones like onyx, jade, and dark jasper.
5. Rose quartz pendants - Heart shaped & Oval shaped
A rose quartz pendant will always bring positive feelings to the wearer.
By far the most attractive and beautiful gift idea is the heart shaped rose quartz pendant. Not only can you experience the incredible benefits of rose quartz, but you get a beautiful heart shape as well.
As you can imagine, receiving a lovely heart-shaped rose quartz pendant would be fantastic. Many a girl, mother, Aunt, sister or grandmother would love one.
6. Rose quartz eggs
A rose quartz egg can be displayed on a shelf or table to enhance decor and promote a sense of peace.
You may like to know many people use the rose quartz egg as a stress reliever. The egg shape fits perfectly in the palm of your hand and is used when feeling stressed.
Rose quartz eggs also look lovely in a room and provide a sense of balance. The egg shape is one of nature's more fun and interesting shapes.
7. Rose quartz jewellery
Used in jewellery, it adds interest when combined with white stones or pearls, as well as when mixed with dark stones like black onyx.
Jewellery with quartz crystals or stones is popular, because of its ability to work with so many different types of stones and with a variety of colours. It also enhances the natural beauty of gold and silver settings.
Rose quartz is often used in jewellery, to add natural tones. It can also be used for wedding jewellery, as it helps achieve a soft, feminine, graceful look when used with other light stones or pearls.
Other popular rose quartz crystals outside the top 7
There are a number of other rose quartz crystal shapes that are popular for crystal lovers.
The first one is the rose quartz crystal ball or sphere. A rose quartz ball or sphere for home or patio decor blends well with contemporary decor.
The rose quartz gem tree is very popular as a gift idea. It is priced a bit cheaper to the other more expensive rose quartz items but adds a lovely appeal to any home.
The rose quartz pyramid is the last one of the popular items that didn't quite make the top 7.
The rose quartz pyramid is one of the most powerful and unique shapes.
The pyramid is representative of the uniqueness of the Pyramids of Giza.
These took over 200 years to build and are one of the 7 wonders of the world.
What are the Top 5 Benefits of Rose Quartz?
Rose quartz is a natural stone so that it can be used in outdoor or patio decor as well as indoors. Rose quartz is one of the most versatile crystals on the planet. Rose quartz is a clear winner for the ladies, but even the guys will appreciate a lovely rose quartz landscaped garden.
Lighter shades of pale pink can be coordinated with other crystals or natural stones. They tend to blend well with just about any other stone or crystal colour. Rose Quartz also brings out the beauty in women. Such a lovely soft pink colour looks great on all ladies.
The varying shades of pink work with both silver and yellow gold settings, in jewellery. This is the number 1 reason why rose quartz is so popular as a jewellery item.
Rose Quartz is thought to bring protection to those who wear it. The stone or crystals are often found in the top Australian jewellery designed for infants and young ladies.
Some people believe the natural stone can calm anxiety, bring about relaxation and reduces stress. The reason behind this is Rose Quartz is known to draw away negative energy and replace it with a lovely vibration of love. So many use it as a natural remedy to these issues.
Using Rose Quartz for Feng Shui
Many energy healers use Rose Quartz for Feng Shui, focusing on love and spiritual healing. Some like to carry rose quartz tumble stones around with them or place clusters and specimens under their pillow.
The healing energy can also be used with young children who may have difficulty sleeping and anxiety. You should place some rose quartz under their pillow to help them sleep better.
You can also enjoy some beautiful meditation with rose quartz. As this healing stone has such a positive vibration, it is recommended to hold it while meditating. Many a crystal book will suggest this is the best stone for enhancing your affirmations.
You may like to know that rose quartz natural birthstones is for those born in January.
Where is Rose Quartz mined?
Much of the rose quartz stone is mined in South Africa, Brazil, and South Dakota in the U.S.
On the MOHS hardness scale, quartz is around 7.0. This is harder than opal, jade, and moonstone, but not as hard as ruby, topaz, or emerald, which are all around 7.5 to 8.0 on the scale.
Diamond is the hardest stone, at the top of the range at 10.0. So if you get a beautiful rose quartz jewellery item with a diamond, then no-one is going to be breaking that. haha.
How to care for your rose quartz crystals
Caring for rose quartz crystals or jewellery is easy.
However, due to the possibility of scratching from fine dust flakes or debris, it should be rinsed with warm water before rubbing or polishing with a soft cloth.
Settings of gold or silver on quartz jewellery should be cleaned normally, using caution to keep the cleaner away from the stones.
For those pieces you have in the garden, you can use warm soapy water to clean the Rose Quartz natural chunks and then place it back outside in the garden.
Summing up the Top 7 Rose Quartz Crystal Gift Ideas for 2023
Rose Quartz is absolutely stunning and it pretty much doesn't matter what piece you buy as they are all amazing.
The key to Rose Quartz is its ability to replace negative energy with more loving vibrations. When you read the crystal meaning, you want to place it around your home, garden and bedroom.
It goes without saying that Rose Quartz jewellery and natural crystal clusters are by far the most popular gift idea for ladies. If you need gift ideas for your partner, then Rose Quartz will definitely put you in the good books ;-)
To find out more about Earth Inspired Gifts and how we got started, click play on the videos below. They only run for a minute each.
---