Crystal Earrings - Benefits and Types of Natural Gemstone Earrings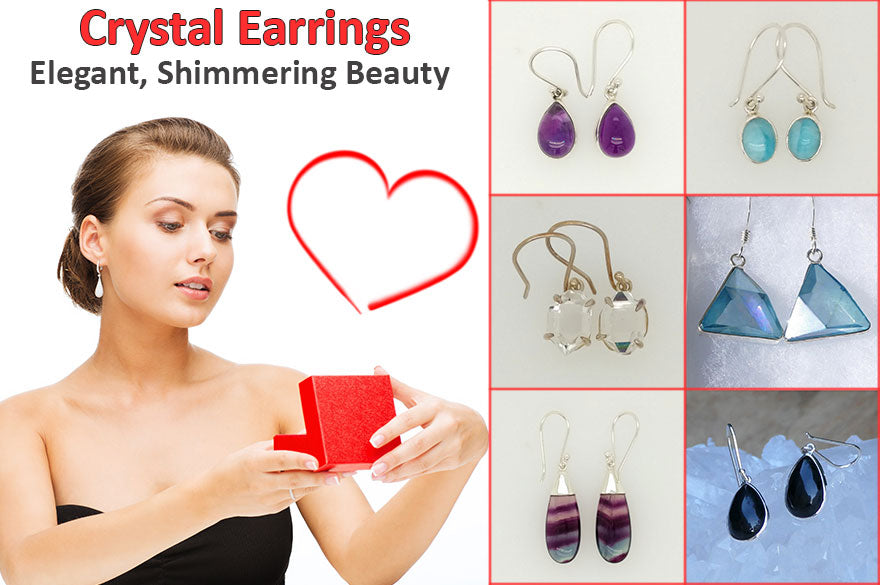 When it comes to crystal earrings, nothing quite says beauty more than a pair with a natural gemstone or crystal, set in sterling silver or gold.
For many, a pair of natural crystal earrings are the perfect way to make a lasting impression at a function, party or social gathering.
Nothing sparkles quite as nicely as seeing a pair of rose quartz or amethyst earrings shining in the natural light, especially on a sunny day.
One thing is for sure, and that is your sense of style will never grow old when you wear a pair of healing crystal earrings, crystal drop earrings or some lovely dangling sterling silver earrings.
Healing Crystal Earrings
The beauty of healing crystal earrings is that each stone has its healing properties as you will read below.
Every single crystal has a specific vibrational energy, which radiates around you when wearing them. It is for this reason that crystal earrings are so popular.
Many like to set their intentions within their crystal earrings and wear them as a constant reminder of their focus.
Rose Quartz Healing Earrings
Rose quartz earrings shimmer a beautiful colour of pink.
You are no doubt already aware of the fact that rose quartz has many benefits and is knows as the stone of love, infinite peace and has excellent healing energy.
If you would like to radiate unconditional love and peace, then a pair of rose quartz earrings will be ideal.
Amethyst Earrings
Purple amethyst is one of the most sought after crystals on Earth today.
Amethyst has many lovely benefits including protection, selflessness, balance and inner peace.
Amethyst is excellent for enhancing your intuition and look stunning on everyone.
Quartz Earrings
We love to see quartz earrings set in sterling silver. Quartz crystal is the most powerful amplifier of all crystals.
As Judy Hall, Author of The Encyclopedia of Crystals says, 'Quartz absorbs, stores, releases, and regulates energy and is excellent for unblocking it.'
Quartz will help you develop a more positive and powerful mind. And they look stunning on.
Drop Earrings
Drop earrings work on every face type and are very popular, especially those set in sterling silver.
We have a range of drop earrings available on this site as you can see below.
Fluorite Earrings
Fluorite earrings are a statement all to themselves. Rainbow Fluorite is such a popular stone, and when designed into a lovely earring, heads will turn.
If you are looking to make a statement and create the 'Wow' factor, then do it with Fluorite earrings.
Fluorite has so many benefits, including the ability to neutralise any harmful or negative energy in a room. Fluorite can help bring balance and restore order.
Herkimer Diamond Earrings
Herkimer diamond earrings are incredibly unique, and the clarity on these is impressive.
But you must be quick. Herkimer earrings are challenging to source in Australia, especially those with a clean cut and beautiful setting.
Rainbow Moonstone Earrings
The name 'Rainbow Moonstone' has a special ring to it. But when you hold it and move it from side to side, the true beauty shines through.
This stone is powerfully attuned to the cycles and phases of the moon and helps you develop your life cycle and become clear on your direction in life.
Amber Earrings
Amber is like getting a piece of Earth's history forever.
There are many benefits of Amber, including the ability to help instil health and wellbeing.
Also, Amber is said to help draw away negativity and pain and restore your body's natural healing functions.
Larimar Earrings
Larimar is an exclusive crystal mined in one place in the world. This adds to its exclusivity.
And it doesn't hurt that Larimar is such an amazing blue colour, with waves of white thrown in.
It is like looking into a beautiful sunny day with a wisp of clouds here and there. You will feel your energy rise when wearing these earrings.
Tourmaline Earrings
Black Tourmaline is a must-have crystal for your collection. But it goes without saying that tourmaline earrings look stunning on.
They say black goes with anything and likewise with tourmaline earrings.
Tourmaline will help cleanse and purify your energy and provide a protective shield around your body.
People place tourmaline all around their house as a form of protection and likewise, when wearing it, to provide natural protection to negative energies.
Tree of Life Earrings
The Tree of Life has such positive symbolism and continues to be a part of thousands of cultures around the world.
It represents the interconnectedness of all things, with the roots grounding you and showing the power of a strong trunk. This sets your firm foundation in life.
You will notice the branches divide in all directions, emitting a wonderful radiating energy all around you.
Type of Crystal Earrings based on your face shape
No matter what shape your face, there are many styles of earrings that will be the most flattering for you.
You always want to accentuate the positive and with so many styles of earrings, you'll be able to choose the best crystal earrings for you.
When choosing jewellery to wear, there are plenty of tips and tricks you can use to increase your energy and aura.
It goes without saying, but you are not just choosing a pair of earrings, but you are selecting the right metal and crystals or gemstones within. The right combination makes your face shine with positive energy about it.
While almost all these selections are best just left up to personal preference, shopping for earrings can be a bit more complicated.
Depending on who you listen to, whether they be fashion experts or friends, many will tell you to go ahead and select any earrings you like.
But if you wish to make sure the earrings you wear will seem the most flattering on you, its best to contemplate the style and shape of the earrings, and how they look with your particular face shape.
Utilise this guide to determine your face shape, and how to select the best earrings for it.
If you wish to make sure the earrings you wear will seem the most flattering on you, its best to contemplate the style and shape of the earrings, and how they look with your particular face shape.
Earrings for a round face
To start with, let's consider those with a round face shape. You face is circular, with the widest point of your face being the cheeks.
A round face does not taper narrowly down to the chin.
To balance a round face, long, dangling earrings look great.
Styles to consider include:
An elongated teardrop.
A cascade of gemstones.
Earrings for a narrow face
When it comes to a narrow face, we are talking about a longer face rather than wide.
You will find, when looking into the mirror, the cheeks, forehead and jaw are about the same width.
Tips and tricks to add fullness to a narrow face when it comes to earrings:
You are best off choosing round shaped earrings
We have a selection of round drop earrings in-store here.
Round studs of any type including your favourite crystal or gemstone
Consider button-style earrings
Gemstone clusters will look beautiful as well.
Long dangly earrings will be exquisite so long as you find some with round shapes in them. There are many polished crystal earrings finished in a round shape
Go for soft, round shapes to best highlight your cheekbones.
Square Face and the best earrings to consider
When it comes to a square face, we are talking about a shape that is equally long as it is wide. You will notice the cheekbones and jawline are similar or the same widths.
Remember not to wear wide earrings; they'll add to the width of your face.
Look for:
Rounder shapes including polished crystals and gemstones
button styles and dangling circular forms.
Hoop earrings are always very eye-catching and help you stand out from a crowd.
Avoid square or diamond shapes.
Best earrings for an oval-shaped face
Lucky for you if you have an oval-shaped face.
You are one of the lucky ones where nearly every type of earring shape looks good on you.
Add to your jewellery wardrobe frequently, and experiment with all the earring styles and shapes.
Best crystal earrings for you
Hopefully, the number of crystal earrings mentioned above and the styles available give you plenty of ideas.
You have likely already experimented with dozens of different styles and designs and have a shape that works great for you.
Complementing your favourite shape and style with your preferred gemstone is always rewarding.
You will feel great and the compliments will continue to flow.
You may like to complement your earrings with gemstone necklaces, chakra jewellery or crystal pendants.
---