Crystal Lamps - The Top Two Crystal Lamps Every Home Must Have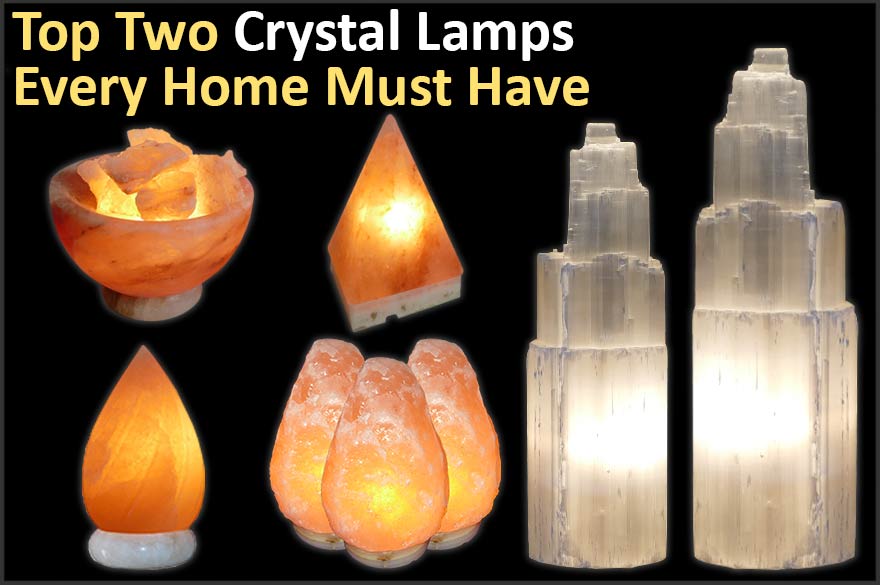 What are the benefits of natural Crystal Lamps and why should every home have one or both of the crystal lamps mentioned below?
According to the World Health Organization (WHO), exposure to artificial electromagnetic fields (EMFs) has increased over the last few years. The common sources of EMFs in a home environment include TVs, computer monitors, surveillance systems, induction cookers, mobile phones, and anti-theft devices.
A WHO report points out that the risks of electromagnetic pollution include depression, stress, fatigue, headaches, low sexual libido, miscarriage, Alzheimer's disease, and cancer.
To ward off these negative health issues, we must do everything we can and salt therapy is a beautiful, soothing solution used the world over.
You can carry out salt therapy (also known as Halotherapy) right from the comfort of your home. The easiest way to do this is to use Himalayan salt lamps to help minimise the harmful effects of EMFs in your home.
Top two crystal lamps every home must have
Let's now take a look at the top two lamps you should have and the many benefits they provide.
Selenite Tower Lamps
Himalayan Salt Lamps
Benefits of Selenite Crystal Lamps
Selenite is a crystallised form of gypsum. It is a healing crystal. Selenite has a long history as a protective, healing, and cleansing crystal.
Humans have used selenite for spiritual and metaphysical purposes for thousands of years.
Selenite crystal lamps have an incredible healing nature about them.
Click play on the video below to see the selenite tower lamps on and off. Either way, they look amazing.
Help remove negative influences in your home
A selenite crystal lamp is a useful addition to your home. People use Selenite to help remove all manner of negative influences from their home.
This lamp will bring clarity of mind and create personal transformation. If you have ever felt 'stuck' or not sure when it comes to making decisions, Selenite is the crystal to help you move forward with confidence.
The negative energy brought about by artificial EMFs will affect your mental, emotional, and spiritual well-being. But there are natural EMFs. These are good and are essential for maintaining life on earth.
On the other hand, there are artificial EMFs that cause all manner of problems.
Selenite is the number 1 most recommended crystal by energy healers
A selenite lamp is one of the most powerful crystals you can use to help deal with the electromagnetic fields in your home.
With this lamp, your judgment and insight will improve. You will also achieve a higher level of mental clarity.
Selenite tower lamps are perfect for those who are looking to restore balance in their life.
You also get to choose from three convenient sizes.
Benefits of Himalayan Salt Lamps
Positive ions (these are not good despite the word 'positive' being in there) caused by EMFs are all over your home.
Himalayan salt lamps produce negative ions (the good ones) that help counteract the adverse effects of positive ions.
Negative ions in nature
Have you ever sat under or nearby a waterfall? Negative ions are in abundance in places such as a lovely waterfall and beaches where waves are crashing in.
Earlier this year we took the family on a cruise to Vanuatu and the whole family not only got to sit under a waterfall but to jump off it as well. That certainly made us feel alive.
Being exposed to nature's negative ions can not only make you feel great but boost your overall feeling and vitality.
Scientific studies conclude that negative ions are oxygen ions with an extra electron attached.
Unfortunately, most homes have a severe lack of negative ions (the good ones), and this is why your home environment needs a Himalayan salt lamp.
This lamp will make your environment soothing and add a lovely calming effect. Not only that but they look fantastic when lit up and caring for your salt lamp is a breeze.
Salt lamps and improved sleep
Nothing is worse than struggling to get to sleep except for a night of restless sleep.
Not being able to get to sleep or constant tossing and turning is not conducive to a happy and healthy life.
I want to relate a story a lovely couple told me when they came to grab some salt lamps.
They told me the story of their recent stay in an Airbnb unit up the coast from Sydney.
As a young couple, they wanted to get out of Sydney's winter and enjoy the warmth of the central coast.
Walks along the beach in the mornings
Being from out west, they wanted to be able to wake up in the morning and go for a walk along the beach.
But it was their story of deeper sleep that made it enjoyable for me.
Every room in the unit had a salt lamp
The Airbnb unit they stayed in had salt lamps in each room.
The main bedroom had a largish salt lamp in it, they said.
The reason they came to see me was they said they slept like a bear in hibernation. Amazing.
And the only thing they could think that changed was the salt lamp in each room.
Something soothing and relaxing about it
'There was something soothing and relaxing about it. But the most impressive thing was when we woke the next morning. Our sleep was the deepest it had been since we could remember. So, on our return, we knew we had to get some salt lamps for our house.'
Salt Lamps and Your Happiness
Salt therapies have existed for centuries. Archaeologists have dug out ancient salt caves in Poland and Germany.
In the past, it was noticed that salt miners were exceptionally happy relative to the rest of the population. They also did not suffer from the respiratory diseases that were common in the past.
According to science, salt is rich in negative ions. Scholars consider negative ions as the 'happy element'.
The good news is both Selenite and Himalayan lamps will increase your happiness.
Both will be like a beautiful ray of sunshine beaming into your room every morning like you are on a tropical island, enjoying life.
Commonly Asked Questions about Crystal Lamps
1. What are the best crystal table lamps?
A hand carved Himalayan salt lamp will be a great table lamp. It will uplift the appearance of your table.
It is a beautiful lamp to have at home or in the workplace.
There are many different carved salt lamps which look great as glass table lamps or whatever style of table you have. The crystal light has such warm energy about it.
Here are our top 3 most popular table lamps:
2. What are the best crystal lamps for floor lamps?
When it comes to floor lamps, large salt lamps really shine through (excuse the pun ;-).
The reason these are great is they go all the way up to 40kgs in size. A floor lamp would normally be positioned in a room with space and so a large salt lamp is by far the most impressive.
The below image showcases the impressive size of the large salt lamps compared to the smaller ones. We also have up to 40kg salt lamps, which didn't fit in this picture.
You also need enough power to light up the bigger space.
And when it comes to salt lamps, bigger is better. Not only do they look amazing but the bigger they are the more health benefits you receive.
3. What are the best crystal lamps for bedside lamps?
The answer to this question comes down to how much light you like on in your bedroom at night.
If you decide to go for the health benefits of a salt lamp, then you could choose a darker salt lamp so not as much light comes out. Then, if you combine it with a low wattage bulb, say 7w, you then have a perfect bedside lamp.
What about the kids' room?
Ever since our kids were born, they have had a salt lamp in their bedroom. Our thinking has been simple. Kids love night lights, so why not have a bedside lamp that provides health benefits at the same time.
It is for this reason salt lamps are fantastic baby shower gifts.
4. What bedside lamp is best if I don't want to have a light on at night?
Selenite tower lamps are the way to go in this case. The beauty of selenite lamps is they don't need to be turned on to get the benefits. 
So you are free to turn your selenite tower lamp off at night and you will still receive the fantastic benefits of selenite.
The best lamps set to go on both sides of your bed is the selenite tower lamps. As a table lamp set they cannot be beaten.
We often sell the selenite tower lamps in pairs and when you order a pair, be sure to tell me in the comments that you want two as close as possible to the same height.
5. Which is better? Himalayan Salt lamps or Selenite Tower Lamps?
We actually create a blog post discussing all the wonderful benefits of both of them and the key differences between the two.
Click the link here: Himalayan Salt Lamps Versus Selenite Tower Lamps
6. Which are the best desk lamps for my office?
A small 2-4kg or 4-6kg Himalayan salt lamp is the best for this.
They look great on the desk and are a great way to eliminate the stress when working all day.
I sit mine on the desk to the left of the PC monitor.
7. What is the best lamp for a boudoir table?
Depending on what light you have in your room or that comes built into your boudoir table, you will need to go for a bright light. 
A selenite tower lamp is much brighter than the salt lamps and you can use the brighter LED bulbs in the selenite. Not only do they emit a lovely white light but they are brighter than the 15w globes.
8. What are the best wall lights?
Now, I know what you are thinking. There is no way you can turn a salt lamp or selenite lamp into a wall light.
Well guess what? You can and somebody did.
Click play on the video below to see the most amazing transformation of a selenite tower lamp we have come across.
The benefit of Natural Crystal Lamps in Your Home
With a natural crystal lamp, your home will become a better place. It will become a place of happiness.
The best natural crystal lamp will add great ambience and elegance to your home.
It will make your house to look and feel sophisticated.
And to be honest, I believe natural crystal lamps are much better than a glass crystal lamp or lights with glass shades, pendant lights, crystal chandeliers, Waterford crystal or a lead crystal lamp.
Modern Day Stress & How the Best Crystal Lamps Will Help
Modern day life is stressful. We are all so busy nowadays, often running from one job to the next and then back to take care of the kids and drop them at their activities.
Stress creeps into our lives every day and the good news is there are a number of crystals for stress relief.
One of the best remedies for this is taking the time to slow down and breathe for just 5 minutes at the end of each day. Obviously, the longer you can do focused and deep diaphragmatic breathing, the better.
If you want to take it to the next level, practising a simple daily meditation has benefits beyond anything else.
Then, if you are able to combine a simple breathing exercise and meditation with either a salt lamp or selenite tower lamp nearby, then you have a very calming and relaxing combination.
The negative ions produced by a salt crystal lamp will have a healing effect. They will heal the mind, improve mood, and subsequently reduce stress.
The Bottom-Line
Your home needs positive energy. My home needs positive energy.
Such energy will improve your mental, spiritual, and physical wellbeing.
Himalayan salt lamps and selenite tower lamps are the best crystal lamps and help improve the home decor. They effectively deal with electromagnetic pollution by infusing negative ions into an environment.
Combine this with their wonderful calming ambience and you then have an environment everyone loves.
---