Blue Turtles Jewellery - Exquisite Sterling Silver Jewellery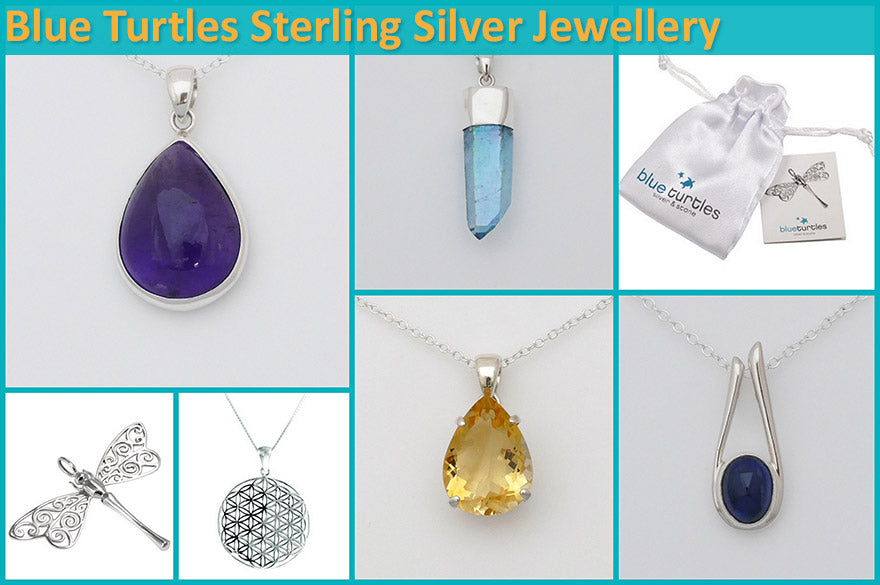 It is with a great deal of excitement that we are introducing our new Blue Turtles Sterling Silver Jewellery range to you our customers.
Who is Blue Turtles Jewellery?
Blue Turtles jewellery is simply the most amazing handcrafted sterling silver jewellery pieces you will see in Australia.
When you see the range and quality, you may find yourself saying:
'I must have that.'
'That piece is so beautiful.'
'What an amazing design.'
Blue Turtles Jewellery is run by a very passionate team of jewellery designers and craftspeople and has been designing the beauties you see on this page since the year 2000.
Doron and Sandy Berger are the talented designers behind the brand and have built a wonderful reputation over the years.
They have a range of jewellery pieces including pendants, Blue Turtles necklaces, earrings, rings, bracelets and more.
Love at first sight with Blue Turtles
As I was searching around the internet looking for new, inspiring crystal jewellery designs, I came across the Blue Turtles website.
The next two hours were spent scrolling through all their stunning jewellery pieces.
I can easily say it was love at first sight. The range, the quality and the designs just blew me away.
You can truly see the passion they have for designing natural crystal pieces is incredibly unique and wonderful ways.
My recent meeting with Doron in Sydney
Every year I am lucky enough that Doron brings his amazing range to Sydney so I can choose from the full Blue Turtles collection.
This year was some inspirational.
The reason is simple. I have been making his lovely sterling silver jewellery pieces available for some time now and the response from our clients has been amazing.
So I was super excited to get as many new pieces of jewellery as possible.
Over the last few weeks, I had sold out of the Black Tourmaline jewellery pieces so I made sure I added those to my order.
Doron's knowledge of crystals
The other benefits of chatting with Doron is his extensive knowledge of crystals. And I mean extensive.
In the 90 minutes I spent going through his jewellery pieces, other clients were asking all sorts of questions about each crystal. Doron provided in-depth answers to all the questions and then some.
I was looking at the Moldavite jewellery pieces and Doron gave me the full history of how Moldavite was formed. Fascinating.
High-quality sterling silver jewellery pieces
What captures people's love is the quality of the sterling silver they use in every piece of jewellery.
When you hold it in your hands you can see how exquisite each sterling silver piece is. You can see the quality and brilliance right away.
Not only that, but the Blue Turtles jewellery range comes with a lifetime workmanship guarantee.
Expanding our range
We are very proud Blue Turtles Jewellery suppliers and will look to constantly expand our range of items available.
To start with, here are the items we have available right now. Be sure to come back to this page as we'll be updating it as we offer more unique Blue Turtles Jewellery pieces.
Enjoy.
---