Rose Quartz Jewellery - Facts, Benefits & Healing Properties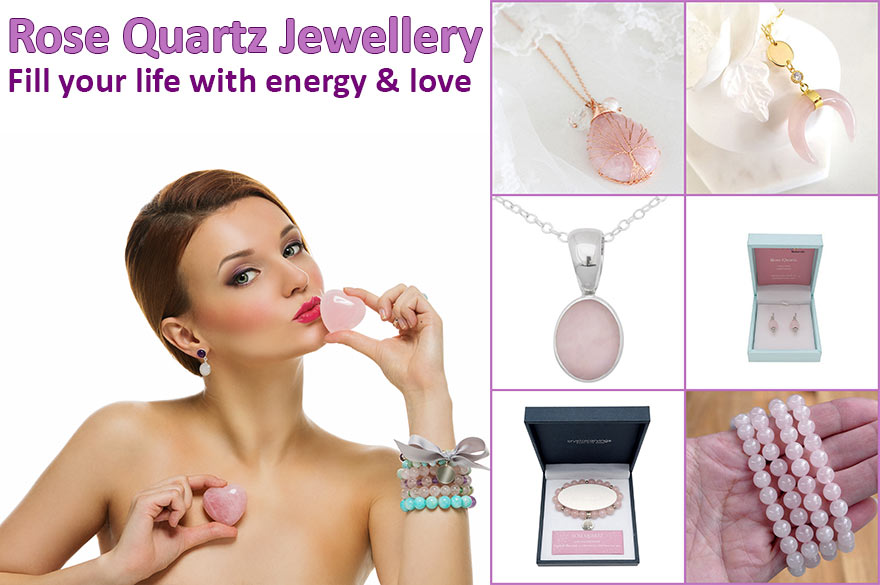 Rose quartz jewellery is by far the most popular jewellery among those who love crystals and those who simply appreciate a beautiful natural stone.
Rose quartz gemstones and pink rose quartz, as they are commonly referred to, always looks stunning when set in either sterling silver or gold.
Benefits of Rose Quartz Jewellery
Rose quartz is considered one of the best healing crystals and wearing rose quartz comes with some excellent benefits.
If you are looking to open up your heart to better friendships, better relationships, better romantic interests and the feeling of a 'light and happy heart', then rose quartz jewellery is for you.
Many love the other significant benefits of rose quartz jewellery, which are to help negative emotions, negative feelings, emotional wounds and to fast track your emotional healing.
The healing energy of rose quartz is a powerful one, especially on the heart, allowing you to release those emotional blocks and move on with life.
When it comes to the power of this healing crystal, the major benefit comes from wearing rose quartz or meditation with rose quartz.
Rose Quartz Jewellery Meaning
According to Judy Hall, Author of The Crystal Bible, 'Rose quartz is the stone of unconditional love and infinite peace.
It is the most important crystals for the heart and the heart chakra, teaching the true essence of love.'
Rose Quartz Healing Jewellery
If you are looking for a natural remedy to emotional pain and blockages around the heart, then rose quartz are the best quartz crystals for healing.
The rose quartz properties are all about peace and unconditional love to bring about deeper inner healing.
Over hundreds of years, people have used rose quartz to enhance fertility and overcome emotional pain due to their metaphysical properties.
Rose Quartz Pendant Jewellery
Rose quartz pendants are ideal as the best place to wear rose quartz is around your heart. Therefore, pendants are perfect for getting the most out of your natural crystal.
Rose quartz crystal pendants, beyond their aesthetic appeal, offer various benefits.
Wearing a rose quartz pendant close to the heart can amplify its healing properties.
The stone is known for promoting feelings of unconditional love, self-worth, and emotional healing. It can also aid in attracting and maintaining love relationships.
Additionally, rose quartz is believed to have calming effects, helping to soothe negative emotions and stress.
By wearing a pendant, these positive energies are kept close, allowing the wearer to benefit from them throughout the day.
There are a few different rose quartz pendant designs ranging from the basics to suit every budget and up to a stunning polished gemstone set in 925 sterling silver.
Another favourite gift idea is the rose quartz chip necklaces. Starting at $15, these are very popular and look lovely on.
Rose Quartz Bracelets
Rose quartz bracelets hold a special allure for many reasons. First and foremost, the soft, dusky pink hue of rose quartz exudes a natural elegance and femininity, making it a versatile piece of jewelry that complements various styles and occasions.
Additionally, the idea of having a healing stone in close contact with the skin, in the form of a bracelet, appeals to those who believe in the therapeutic properties of crystals.
Together, the beauty and meaningful symbolism of rose quartz make bracelets crafted from this stone particularly charming and popular among women of all ages.
Rose quartz bracelets range in price from $15 up to $50 depending on the setting and style.
Some bracelets come with a tree of life charm, which sets the bracelet off nicely.
Rose Quartz Earrings
Rose quartz earrings, especially when set in sterling silver, exemplify elegance and timeless beauty.
The soft pink hue of rose quartz contrasts beautifully with the lustrous shine of sterling silver, creating a harmonious blend of warmth and brilliance.
This combination accentuates the natural beauty of the gemstone and adds a touch of sophistication to any outfit.
Gifting rose quartz earrings conveys thoughtfulness, making them a cherished gift for occasions like birthdays, anniversaries, or simply as a token of appreciation.
The combination of visual appeal, deep symbolism, and the elegance of sterling silver ensures rose quartz earrings remain a popular and cherished choice for many.
You can get rose quartz earrings in a sterling silver loop, and you can get rose quartz drop earrings too.
You will notice the rose quartz drop earrings come boxed and beautifully presented. This is why they are such a favourite gift idea for women.
5 Interesting Facts about Rose Quartz Jewellery
The Rose quartz crystal stone is excellent for kids of all ages and helps teach them unconditional love for their family and those around them. Place some rose quartz in your kids' room and let the gentle and loving energy be part of their life. The pink rose is extremely attractive to kids of all ages and helps promote inner confidence, calm and helps them express their emotions.
Rose quartz is used to help remove negative energy and replace it with an unconditional love vibration. Sometimes you might feel stuck in a relationship, or you have trouble with certain people around you at work. Use rose quartz to help calm and eliminate this negative energy so you can raise your vibration and get on with your job.
Think you are suffering from a mid-life crisis? Instead of buying a $70,000 sports car, why not grab a few lovely chunks of rose quartz or some tumble stones? Rose quartz gemstones are said to be excellent for those in the mid-life crisis mode (and much cheaper than a sports car). You may have some negative patterns that have crept into your vocabulary. Rose quartz can help get your intentions back on track and open your eyes to the beauty and love that is all around you.
Use rose quartz to bring more love into your life and to upgrade your relationships. Place your pink rose quartz stone beside your bed or in your bedroom to set your intentions on improving your love life. Once you have cleansed your crystal, set clear intentions on what you want and use this stone as the gentle reminder for more love in your life.
Have you ever felt like you have closed yourself off to new adventures or new relationships in your life? Then you must use rose quartz to open your heart to become more receptive. You will become more receptive to your inner beauty, allowing self-love to shine through. Once you have started to love yourself more, new opportunities and love will flow your way. You cannot start to love others until you have discovered how to love yourself first.
Where to buy Rose Quartz Jewellery in Australia
Have you fallen in love with rose quartz jewellery yet?
The meaning of rose quartz coupled with the healing properties and beauty of the stone make for a fantastic jewellery piece.
Buying rose quartz jewellery for our customers makes our heart sing ;-) It is just so lovely to look at, and we find we like to try different shapes and designs from time to time.
The jewellers we have on board here focus on the best-polished crystals and stones and are passionate about getting the piece looking amazing.
A lot of care goes into designing and then creating a stunning rose quartz jewellery piece.
Of course, you can buy your rose quartz jewellery here in Australia through this website, Earth Inspired Gifts.
But please note that there have been several times when several of our suppliers are entirely out of stock.
---