21 Natural Crystal Hearts - Our Best Heart Shaped Crystals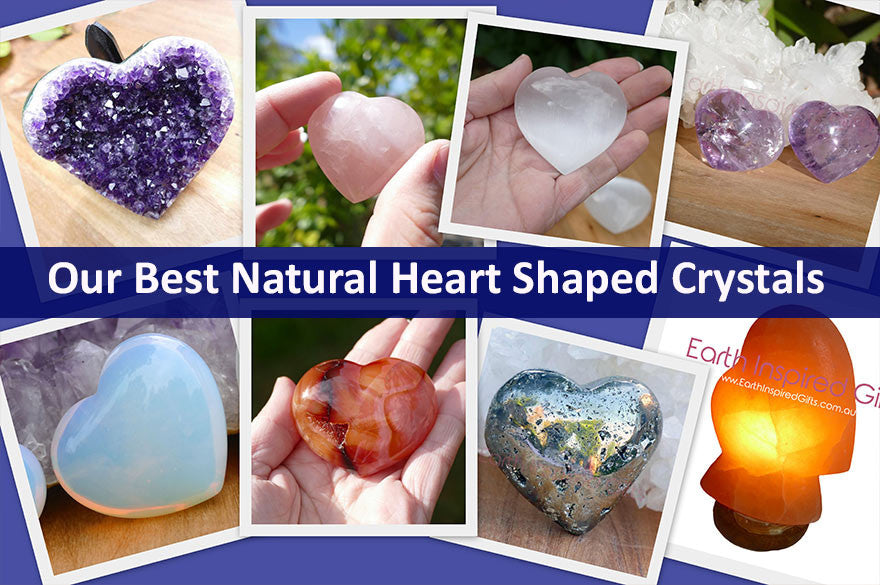 Crystal Hearts. Pretty, beautiful and sparkling.
When you get a chance to view and hold a crystal heart, you often hear people say words like amazing, pretty, wonderful, sparkling and beautiful.
Beautiful gift idea for girls - Heart shaped crystals
By far the most common gift idea for girls is a beautiful heart shaped crystal. Not only are they so pretty, but the price is perfect, starting as low as $12 for one crystal heart.
Actually, if the truth is known, women of all ages love crystal hearts. But there is definitely a preference for the natural types. The reasons the natural types are more popular is due to the uses of the crystal itself.
It is easy to be impressed with crystal hearts because the carvings are so accurate. You can only imagine how challenging it is to carve out a beautiful heart from a natural crystal stone.
Not only that, but natural crystals can break, so the craftsperson must be so careful when creating their little masterpieces.
The bottom line is you and I get to benefit from the wonderful artwork these people have created and enjoy our hearts in our own space.
There are dozens of outstanding quotes about the heart, and here are a few of my favourite ones.
Inspiring quotes about the heart
Pretty crystal heart necklaces
Some ladies love to collect a range of different heart shaped crystals and place them around their home. 
But many love to wear an exquisite heart necklace, showcasing a crystal with their favourite colour.
Perhaps you love to wear a sparkling rose quartz heart necklace.
Rose Quartz is known as the stone of love and romance, and the natural pink colour goes with anything.
When people visit our shop, they always pick up and admire our large rose quartz heart. So beautiful.
Another of the very popular heart necklaces is amethyst, with the wonderful shades of purple. My daughters absolutely adore the natural purple colours presented with the amethyst stones.
Sparkling crystal heart pendants
Delicate little heart pendants are the perfect addition to any outfit. If you love natural earthy crystals and the energy they provide, heart pendants are the ideal choice.
Or perhaps you are looking for a gift idea for your niece, Mum, Aunty or Grandmother. If a beautiful gift idea is on the cards, then you will win many brownie points with a sparkling crystal heart pendants.
Valentine hearts or the most amazing crystal hearts for any gift occasion
So, you have a truly special love in your life.
Your special person makes your heart skip a beat.
They bring a smile to your face at odd times during the day.
You love their quirks.
You love their smile.
You love the way their eyes glisten as you stare lovingly at them across the dinner table.
They radiate beauty and you cannot get enough of it.
When it comes times to find a gift to truly WOW them, the Amethyst cluster crystal heart is by far the most exquisite and exclusive item.
These are natural amethyst crystal clusters carved into an amazing heart. They keep the natural crystal
As expected, the uniqueness, colour and beauty of these put them at the higher end of the price spectrum. And rightly so. They are stunning. 
Unique glass heart - why are these included when we are talking crystal hearts?
Yes, it is true. One of the crystal hearts we stock isn't a natural Earth inspired crystal. Instead, it is an opalised heart.
Opalite is one of the most eye-catching, beautiful colours. Truly amazing. It glistens every time you hold it up to the light. Even when you don't hold it to the light it is amazing.
So we were so impressed that we had to add it to our collection.
What do you think? Do you think it makes the grade? Is it good enough to be included among these lovely Earth Inspired Natural Crystal Hearts?
The look on my daughter's face when they first saw it meant a definite YES!
They just had to have one. If you have young daughters or nieces, the Opalite hearts are a definite crowd pleaser. Very cute.
Orgonite crystals hearts
Orgonite hearts are made from resin and each one contains a mixture of natural crystal, metal shavings and a copper coil.
They are flat in shape and are used to help those who are looking to reduce Electro Magnetic Frequencies (EMFs) and are helpful for a range of uses.
Our customers use them to place under their pillow at night as they are said to help with insomnia, nightmares and in general, help facilitate a better flow of energy in your life.
Over 21 Natural Crystal Hearts to Choose From
We thought it might be fitting to include the full collection of wonderful heart shaped crystals. Click on any of the individual product listings below to find out more about each one.
If you do a count, you will notice there are more than 21, but from time to time our stock levels change, so we wanted to under promise and over deliver ;-)
Uses for the crystal hearts
Every crystal is unique and offers energy and healing solutions specific to that crystal.
Click on the listing of each type to find out more about the uses for each crystal heart type.
Summing up our Best Heart Shaped Crystals in 2023
Heart shaped crystals will always be extremely popular.
But what truly makes them special and keeps coming back are crystal hearts come in a variety of colours.
You have both the 'girly' pinks (Rose Quartz Crystal Heart) and purples (Amethyst Crystal Hearts)but you also have the natural dark tones of Smoky Quartz crystal hearts or Red Jasper or the very unique and colourful Tiger Eye Heart Crystal.
Hopefully, this post helps you find the perfect crystal heart for you or as a gift idea for a loved one.
Click play on the video below to find out more about Earth Inspired Gifts and how we got started.
---